Magnolia Pond Farm
Welcome to Harpers Ferry!
Our luxe farmhouse was built c. 1805 in historic Harpers Ferry, WV, and lovingly restored in 2019. With a separate barn studio and billiards room, it's the ideal private getaway for a friends trip, family reunion, work retreat, or microwedding. Take a dip in our heated plunge pool/spa and relax under the stars.

13 guests – 6 bedrooms – 7 beds – 6 bathrooms
Close to Major Cities
Washington DC – 1.25 Hours
Baltimore – 1.25 Hours
Philadelphia – 3 Hours
Pittsburgh – 3.5 Hours
NYC – 5 Hours
Property Details
Hosting up to 13 guests, Magnolia Pond Farm is made up of two separate structures.
The main historic Farmhouse offers four bedrooms, six beds, and five bathrooms spread over three levels. There's also a well-equipped kitchen with large dining table, many cozy indoor spaces, and a multitude of outdoor entertaining areas.
The Barn is a short walk away, adjacent to the pool. Formerly an art studio, this newly renovated building houses the billiards room and a half-bath on the first floor, as well as a fully outfitted suite above with spacious bedroom, luxe bathroom, kitchenette, and living area (including a pull-out sofa).
Questions? Please read through our list of frequently asked questions or send us an email. We will get back to you promptly.
Availability Calendar
Review our current availability at the Farmhouse and use the link below to book your stay!
September 2023
| | | | | | | |
| --- | --- | --- | --- | --- | --- | --- |
| Sun | Mon | Tue | Wed | Thu | Fri | Sat |
| | | | | | 1 | 2 |
| 3 | 4 | 5 | 6 | 7 | 8 | 9 |
| 10 | 11 | 12 | 13 | 14 | 15 | 16 |
| 17 | 18 | 19 | 20 | 21 | 22 | 23 |
| 24 | 25 | 26 | 27 | 28 | 29 | 30 |
October 2023
| | | | | | | |
| --- | --- | --- | --- | --- | --- | --- |
| Sun | Mon | Tue | Wed | Thu | Fri | Sat |
| 1 | 2 | 3 | 4 | 5 | 6 | 7 |
| 8 | 9 | 10 | 11 | 12 | 13 | 14 |
| 15 | 16 | 17 | 18 | 19 | 20 | 21 |
| 22 | 23 | 24 | 25 | 26 | 27 | 28 |
| 29 | 30 | 31 | | | | |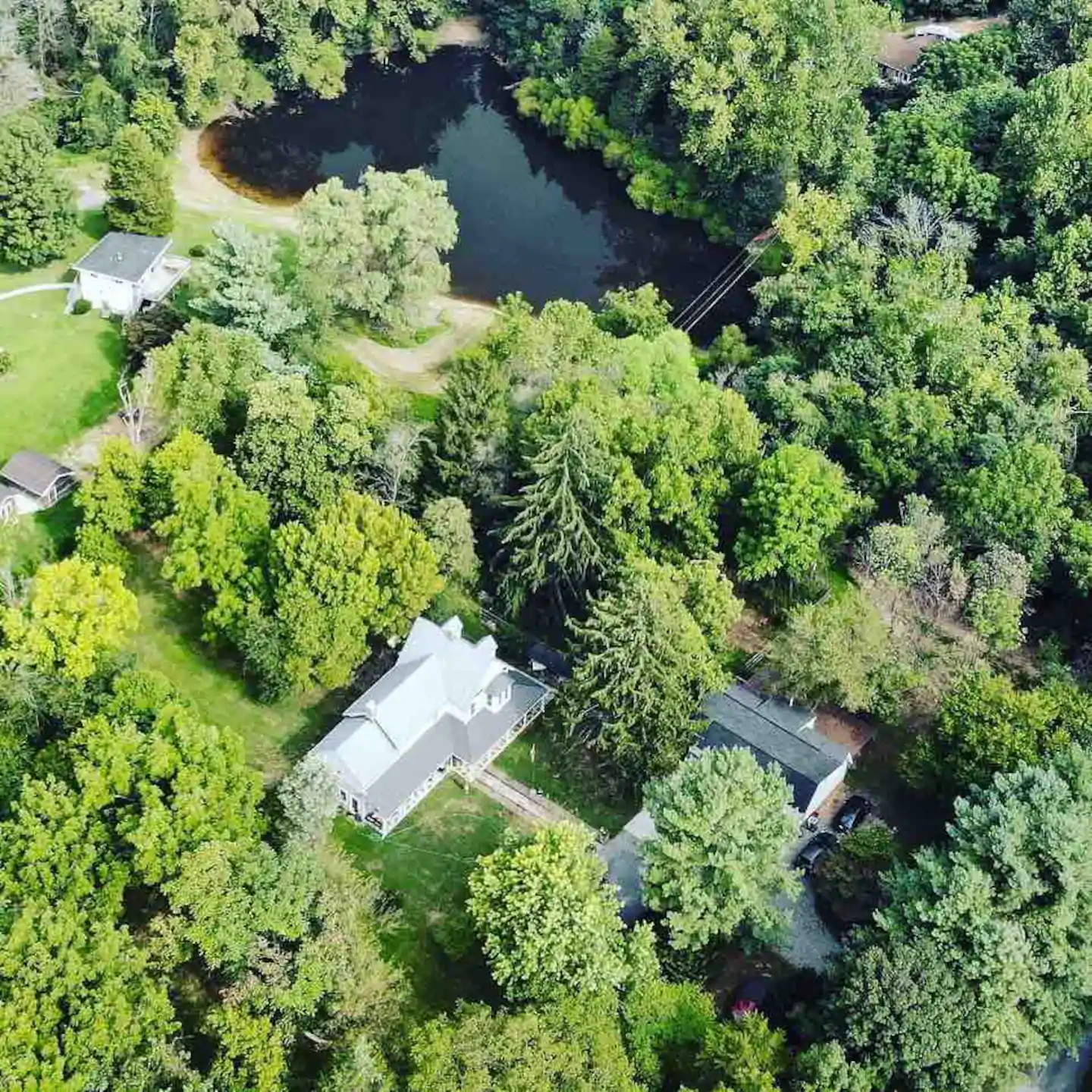 Amenities
We provide all the essentials – Restoration Hardware towels, bed linens, toilet paper, paper towels, hair dryer, cleaning products, shampoo / conditioner, shower gel, first aid kit, firewood… as well as the following additional outstanding amenities:
Internet & WiFi
High-speed internet & WiFi connectivity throughout the farmhouse and barn
Digital Entertainment
Six HDTVs with Netflix, Amazon Prime Video, HBO Max, Roku, Hulu
Sonos Bluetooth speakers inside and out
Outdoor Grill
Top-of-the-line Weber propane grill, propane tank included
Plunge Pool
State-of-the-art heated saltwater plunge pool combines the best of a pool and a hot tub for year-round enjoyment

3 chaise lounges plus a 4 person dining table
Fireplace & Stoves
2 wood-burning stoves and 1 gas fireplace
On-Site Laundry
Two laundry areas; laundry detergent provided as well as a clothing iron
Billiards Room
Six-foot pool table in the barn
Outdoor Games
Basketball hoop in the driveway, cornhole, & horseshoes
Fire Pit
Stone fire pit with 10 Adirondack chairs overlooking the pond
Patio Lounge
Large slate patio with lounge seating
Wraparound Porch
800-sq. ft. wraparound porch with rocking chairs and porch swing, as well as an outdoor dining table for 12
For Families
Pack 'n Play available upon request
Library
Collection of books and games
Small Kitchen Appliances
2 Nespresso machines plus a regular drip coffee maker, blender, toaster, and Instant Pot
Farmhouse Guest Reviews
"WOW! There are truly not enough words to describe the magic of Leigh's farmhouse. My husband and I got married at the property with a small intimate ceremony with our parents and siblings. I couldn't have asked for anything more! Leigh was quick to respond, provide recommendations and the farmhouse was more than we could have ever imagined. It will always be a special place for us and we can't wait to go back and celebrate for many years to come!"
"I truly can't remember a stay – Airbnb, 5 star hotel or otherwise! – that was as flawless and as relaxing as our stay at Leigh's Farmhouse. From booking and excellent, clear communication to opening the front door and exploring Leigh's home (and the outdoor spaces!), we couldn't have been more delighted with our time in this beautiful oasis. The Farmhouse is exactly as described, and then some. There are thoughtful touches everywhere (coffee, stylish and plush Turkish towels and the coziest beds/linens, wood stacked for the outdoor fire pit) and we marveled at the exquisite and innovative décor in every room. We'll be busy at home trying to re-create some of Leigh's interior decorating and organizing skills in our own homes (the sliding silverware drawer and wine cellar!). We're so grateful that Leigh has decided to share this beautiful space  and we will absolutely return to explore the area and all of the activities and restaurants thoughtfully recommended in the book provided for guests."
"Each room in this property is breathtaking, unique, and tranquil. Leigh and Corey offered a great place for our bridal party to get ready before our wedding, and we're very accommodating throughout the process even given the COVID19 restrictions. The plunge pool was extremely relaxing, the fire pit with the pond in the background was tranquil, and everything inside of the house offered a cozy getaway where we will now have everlasting memories. We will absolutely be back, and encourage people to check out this property! It's minutes away from fantastic wineries and breweries in the Northern Virginia area, and makes a great getaway for tourists."
"This property is everything it appears in photos and more. We had a joyous family reunion here, with 4 children and 6 adults, and found our every need met thanks to Leigh's thoughtfulness. Touches we especially appreciated were the high-end kitchen appliances (including everything from a blender to a toaster to multiple Nespresso machines), porch swing and hammock, extremely comfortable sofa beds, an abundance of luxurious Turkish towels, and the entire complex wired for Sonos.  All of this is within a farmhouse that has been lovingly and tastefully restored. I will miss our dinners on the side porch at the long high table next to the grill with the sound of cicadas and a gentle breeze through the trees. (Not to mention the s'mores at the firepit afterwards.)"
"Such a great space/home, we loved the thoughtful touches and cozy feels! We felt safe and were very impressed with the COVID protocols and UV air filters. The barn space was perfect for our crew to spread out a bit more and get some focus study time, plus a pool table! It was nice to curl up by the fire, reading or doing a puzzle. Beds were very comfortable and the interior decor is Pinterest inspo goals! Outdoor space was also plentiful, from porch hang to backyard bonfire (we didn't brave the cold for this, but can see how it's a great spot for humans and pups). I got so many messages after posting on social media about the farmhouse, everyone couldn't believe how lovely it was! Can't wait to come back and try out the plunge pool!"
"A HOME AWAY FROM HOME. Leigh is absolutely wonderful. So responsive so helpful and an amazing superhost. Her home is everything you can dream for. All touches, details, and spaces have been created with a purpose, care and love. As soon as you walk into the house you can feel at home. As a group of 11 we couldn't feel more comfortable during our stay. The coziness, the full kitchen, the outdoor area, the guest house everything exceeded our expectations and Leigh could not have been more helpful since day one. I could not recommend Leigh's farmhouse enough!!!!"